Bayer's experiences in development of API process for darolutamide with Fermion
In 2015, Bayer and Orion partnered up to co-develop a novel anticancer treatment for advanced, non-metastatic castration resistant prostate cancer. The project involved a new chemical entity, darolutamide, and the product got the name Nubeqa. The drug is currently approved regarding its above indication in all major markets including USA, Europe and Japan. Development activities for new indications are still ongoing.
The compound was first synthesized and developed by Orion, who partnered it with Bayer for Phase III clinical development. Bayer holds the global marketing rights, while Orion and its subsidiary Fermion handle all the CMC and manufacturing activities from early clinical development to commercial production. Orion manufactures the drug products, while Fermion manufactures the darolutamide API. Orion holds co-promotion rights for Europe.
"Darolutamide is an exciting anticancer drug. I have always wanted to be part of such a project," says Dr. Michael Lögers, Senior Director of Process Chemistry, Project Manager for external Drug Substance projects.
All milestones met on time
Lögers' colleague Dr. Jan-Bernd Lenfers, VP, Chemical Development, Head of External Cooperations, adds that managing a project from early clinical development stages to launch, with all the CMC activities handled by Orion and its subsidiary Fermion, is both inspiring and interesting.
"The project and the cooperation between Bayer and Orion has proceeded very well. We've been able to achieve all the milestones – such as the scale-up to industrial scale, the handling of the solid state properties of darolutamide as well as the timely assembly of the CMC submission package – on schedule. Our expectations have been fully met by Orion's and Fermion's expertise."
Reliable routine production established quickly
Lögers and Lenfers give credit to Fermion's technical expertise, chemical process development and analytical expertise.
"They meet all of Bayer's criteria for an external manufacturer. Fermion's strengths are: state-of-the-art production equipment, experienced people in chemical process development and analytical development. You can clearly tell that they have a lot of routine production experience for the pharmaceutical market," Lögers says.
"We've been especially impressed by how skilfully they were able to establish a reliable production process for darolutamide," adds Lenfers.
Trusting partnership and smooth communication
In addition, Lögers says the project management and communication between Bayer and Orion and Fermion's teams have run smoothly throughout the project.
"Since the start, we have been able to establish a good, trusting relationship, with a clear understanding of each other's needs. The partner's project team has been highly committed to keeping timelines, eager to solve unexpected situations, and to ensure that the final product is always of great quality," says Lenfers.
Lögers and Lenfers have also had the opportunity to visit Orion and Fermion's facilities in Finland, where darolutamide is developed and manufactured.
"The plants are of high-quality standards and feature state-of-the-art production systems."
Best of both worlds
"It has been a 'best of both world's' situation: Bayer has a lot of experience in developing and bringing new chemical entities to the market, while Fermion is especially strong at routine and large scale production. In this project, we've been able to combine our expertise and learn from each other," Lenfers says.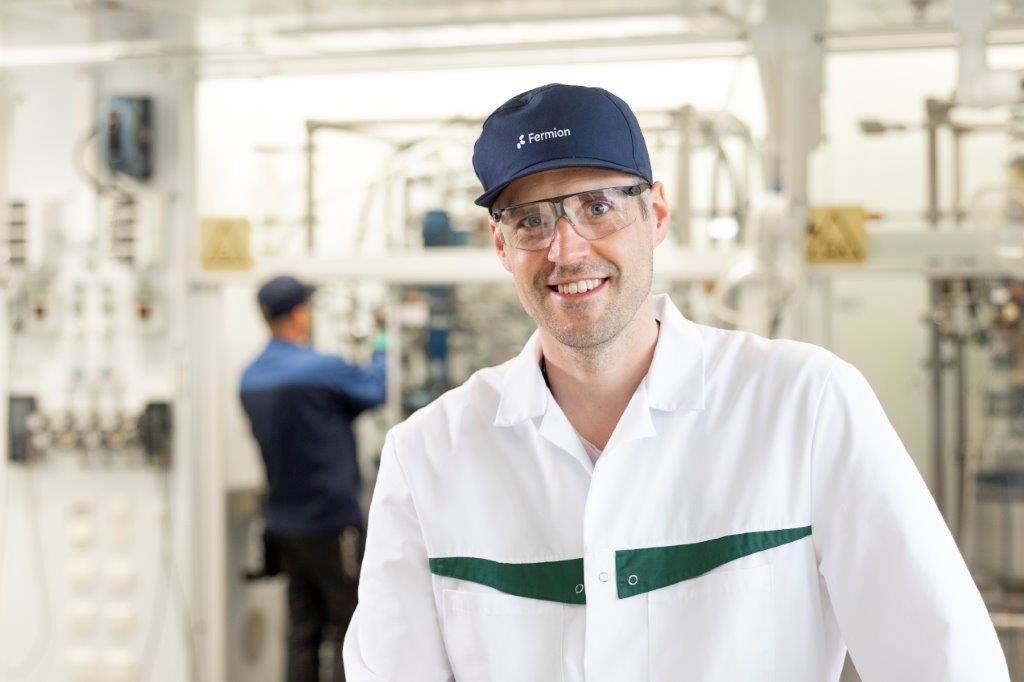 Contact us!
We have already appointed the account manager to help you. By defining your business segment and geographical area you will see her or his contact information. Request for quotation or ask for more information from our team of experts.